Sun Peaks is more known as a Ski Resort and Wells Grey Provincial Park is known for it's spectacular water falls, rivers and the evergreen mountains. This summer, in the beginning of August we decided to cover both over three days. Let's see what's all these about…
Sun Peaks Resort
Sun Peaks is the mountain resort municipality in British Columbia, Canada. It was launched on 28 June 2010. It is constructed around the Sun Peaks resort. It is sited 55 km north-east of Kamloops and 410 km from Vancouver. The town has 616 residents (Population), with an estimated 900 + non-resident landowners. Sun Peaks Resort is one of the best Winter and Summer sports resorts in British Columbia (B.C.). Which makes the Sun Peaks is among Vancouver's best destinations for a mini vacation.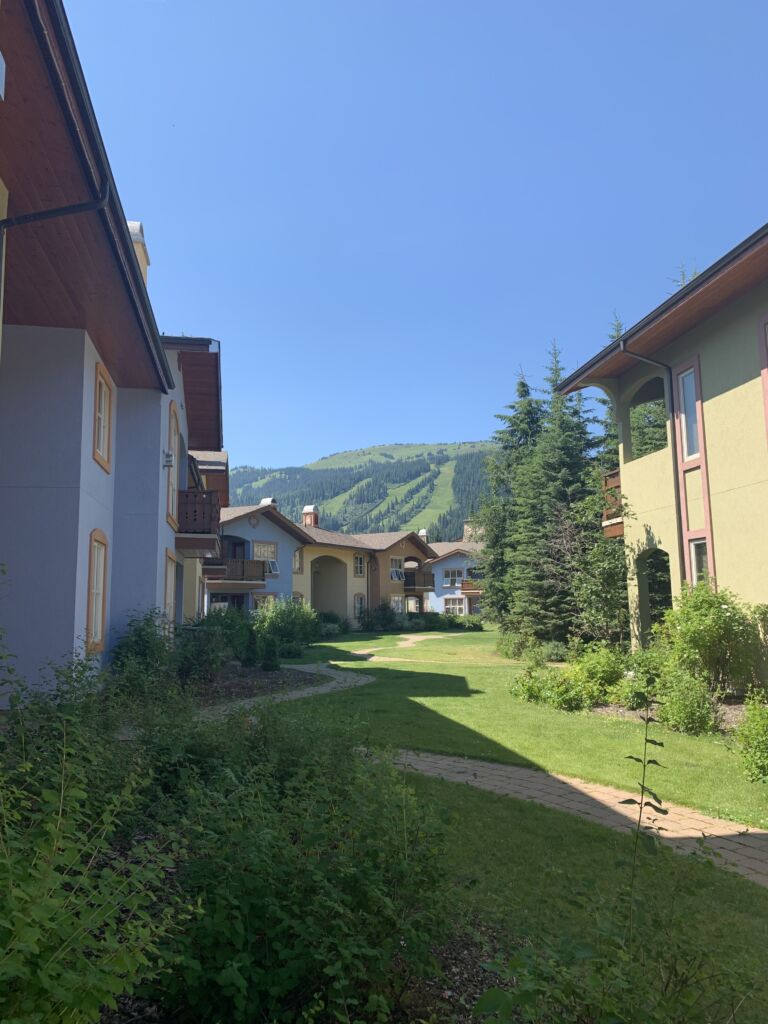 In the middle of British Columbia, Sun Peaks is famous in the winter months for its light snow, vast terrain, and barely-there lift lines. While it's most famous for its winter snow sports — a 2014 Condé Nast Traveler poll ranked Sun Peaks as among the "Top 10 Family Ski Resorts in North America," and that in 2017 it was named "Best for Beginners" by the U.K.'s Telegraph newspaper.
There's a lot of activities to do in summer at Sun Peaks too. Skiing and snow sports run between November to April; summer games run between July to October and include golf, canoeing, mountain biking, and hiking in the alpine.
Skiing, Snowboarding, and Snow Sports
One of the largest ski resorts in B.C., and one of the best locations for skiing and snowboarding outside Vancouver, Sun Peaks is a winter sports star. Unlike uber-popular destinations such as Whistler, Sun Peaks has no lift waiting times, even at the height of the season.
However, Sun Peaks is suitable for all skill levels: the mountains have beginner, intermediate, and advanced trails. And trails for beginners are high enough to boast spectacular panoramic views.
Sun Peaks winter sports include skiing, tubing, snowboarding, snowshoeing, and ice-skating. Winter events that are family-friendly can be found in the resort, including lessons for beginners.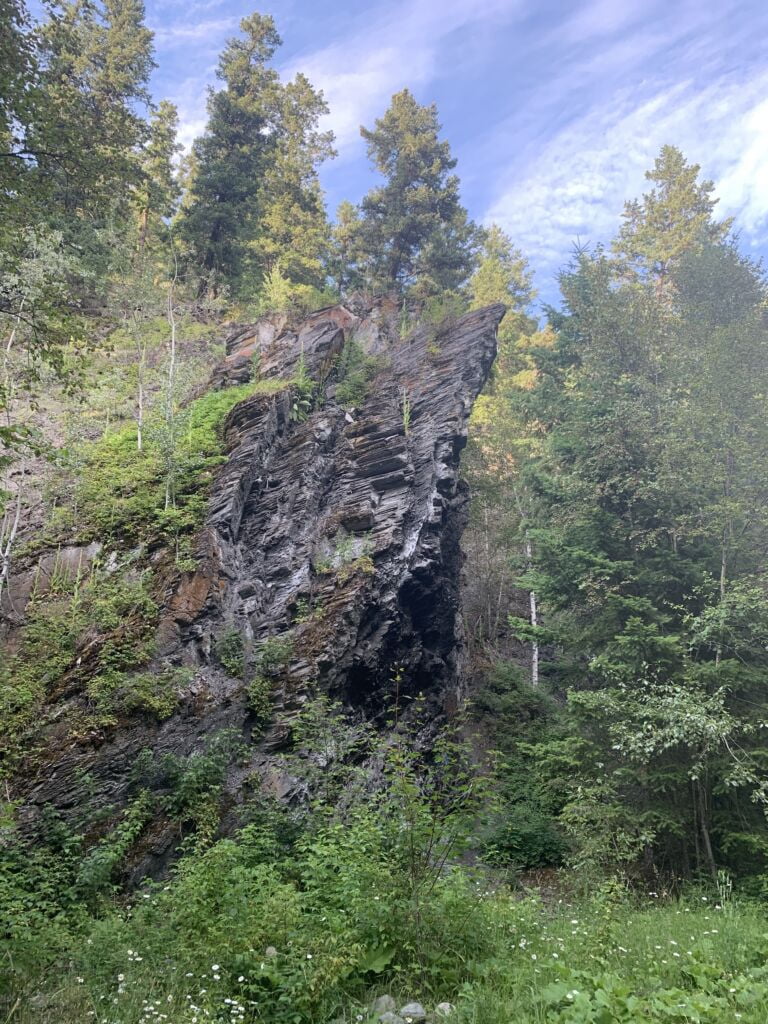 Golfing
BC's Sun Peaks / Kamloops region is quite well known to golfers: Kamloops (45 minutes to the south of the Sun Peaks) is among the province's fastest-growing golf locations. Combine a trip to Sun Peaks and Kamloops, and enjoy a perfect (and affordable) golf holiday.
Sun Peaks' golf course is the highest elevation course in B.C., at 1,200 meters above sea level. This demanding 18-hole par 72 Graham Cooke course, idyllically located in the valley between the mountain ranges, is almost like two courses in one: the front nine are markedly different from the back nine, at which elevation is higher.
Mountain Biking
Mountain biking is particularly famous in Vancouver and throughout British Columbia, but it's not easy to find the ideal conditions for mountain biking. One of the best things to do at Sun Peaks is downhill mountain biking in the summer months. To add to the dramatic downhill scenery, Sun Peaks has 2,000 vertical feet of lift-accessed terrain, no lift waiting times, 29 distinct trails, and beautiful alpine blooms.
Getting to Sun Peaks, BC
Even though Sun Peaks Resort is just-inclusive, there's no reason for bringing your car – unless you're going to drive. Sun Peaks is about a five-hour ride from Vancouver, BC, or a 40-minute short airplane ride (Kamloops Airport). If you can afford the plane, that is the way to go. Not only is it faster and more comfortable, but you can also enjoy the stunning aerial landscapes of the interior B.C. if you fly on a warm day!
One of several reasons why Sun Peaks is a top weekend getaway from Vancouver is the ease of access by plane. Long weekends are a standard time to visit, but mid-week and early or late summer/winter seasons will help you relax for a break.
Wells Grey Provincial park
Assume a place where the rivers have Clearwater, Thompson, and Murtle roar, and sightings of wildlife are as regular as sunrise and sunset. A place where getting off the beaten track is comfortable, and away from the crowds, immersing yourself in real and wild nature.
Wells Grey Country is the area you picture, the mountain communities centered around Clearwater and the Provincial Park at Wells Grey. Five thousand two hundred fifty square kilometers of alpine wilderness carved by volcanoes and glaciers. It is one of the unique landscapes in all of B.C., where your days are measured in hiking moves, wildlife encounters, and the number of shots on your camera from a waterfall.
It was here, and you'll find your wild between old-growth inland rainforest and soaring mountain peaks. You will walk through pristine paddle lakes, ancient forests,
and raft on some of the fiercest rapids in Canada during Spring, Summer, and Fall. Look out over frozen waterfalls in winter and ski down untouched backcountry slopes.
Waterfalls in Wells Gray
Without any doubt, it is the waterfalls that make Wells Grey the attraction it is. The area is part of a volcanic field that started to form around 3.5 million years ago.
Until then, volcanic eruptions and glacial activity have sculpted mountains and rivers' canyons to create spectacular cascades. Still, volcanoes exist in the park, with some officially listed as 'potentially active.' Pyramid Peak last erupted 12,000 years ago.
Nine of Well Grey's waterfalls are within walking distance from the Wells Grey Corridor. My favorites are below:
Helmcken Falls
Marvelous Helmcken Falls plunges 141m into a rough canyon and is one of Well Gray's most prominent waterfalls. Through two different perspectives, one can enjoy the view.
The first one is the viewing platform, accessed at kilometer 42 from a turnoff on the Wells Gray Corridor. It is a short walk from the ample parking lot to reach the elevated platforms that look out towards the punchbowl's waterfall.
The second viewpoint can be found at the end of the Helmcken Falls Rim Trail, and fewer people visit it. The 4 km long trail (8 km return, approx. 1 hour each way) is nearly flat and follows the Murtle River. The reward is a close-up and intimate side view, also accompanied by a lot of nebulae! Be careful, and no fence is in here.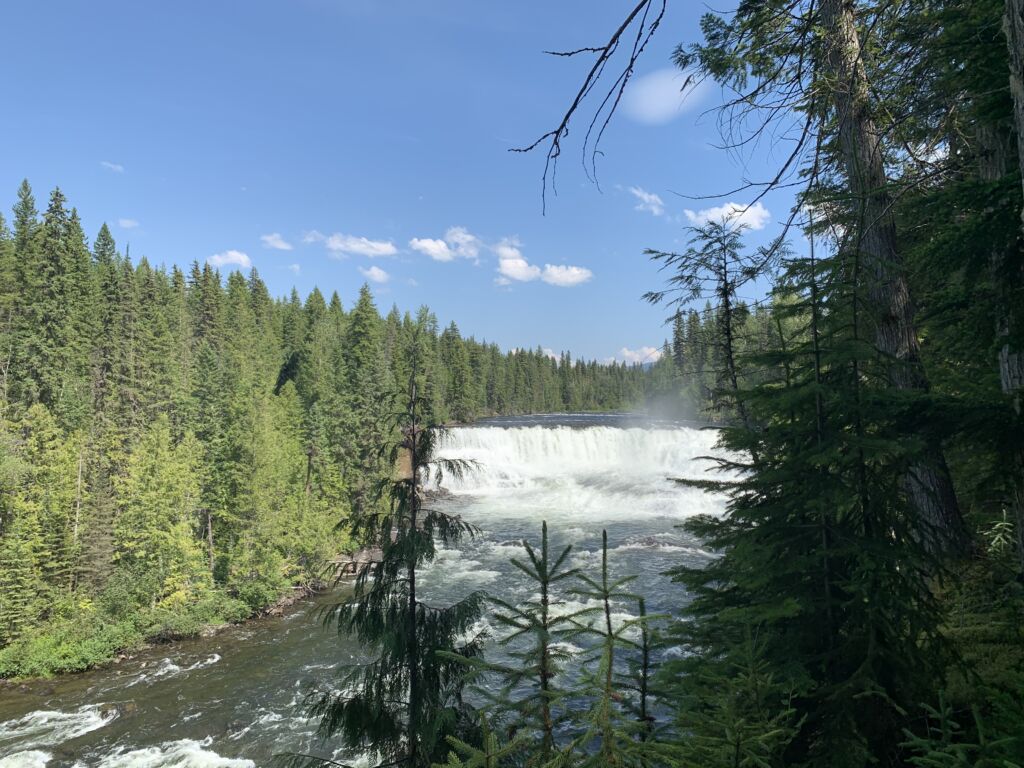 Dawson Falls
Reminiscent of Niagara Falls in small size, this waterfall extends across the river. Consisting of several cascades with a combined height of 20 m, Dawson Falls is in itself pretty majestic.
Turn onto the parking lot at kilometer 40.9 to see Dawson Falls. From here, the first viewpoint is a pure 450m walk. It was my favorite, though further down, because it shows the entire fall.
Another viewpoint is another 250 m or so further on, which is an excellent place to stop and take in the water's power that flows far away.
Spahats Creek Falls
Helmckcen Falls might be the most walked among the Wells Gray waterfalls, but Spahats Creek Falls amazed us most. I had never heard of it, so when we saw it, I was astounded.
The stunning Spahats Creek Falls pours 75m straight into a yawning ravine, roaring through a small rock gap. It's terrific, and there are many viewing points to enjoy.
It's easy to reach Spahats Creek Falls – it's the most accessible of all the Wells Gray waterfalls, with access to the Corridor road at kilometer 10.4. The canyon's rim is a concise 250 m (under 5 minutes) walk from the parking lot.